North Hills Sports Car Club
From the desk of:
Lorenzo the Scribe
Motorsports Journalist
NHSCC #4 - 5/24/15 - HDSA Event Report
The first three events of the NHSCC 2015 spring autocross season were resounding successes.  Three dry events, mild temperatures and each with fields of over 100 drivers.   The fourth event, the annual Huntington's Disease Charity Autocross, continued that string.  The weather was sunny and hot, well into the 80 degree range.  The field reached 133 drivers by the end of registration.  Ethan Conner put down a challenging, but simple course that had the majority of the competitors running times in the low 30 second range.  We were able to close the road in front of the hockey rink for this event, and like last year it provided extra pit area as well as providing an exit from the course that didn't conflict with cars trying to get to the staging line.  Extra space is always a nice thing.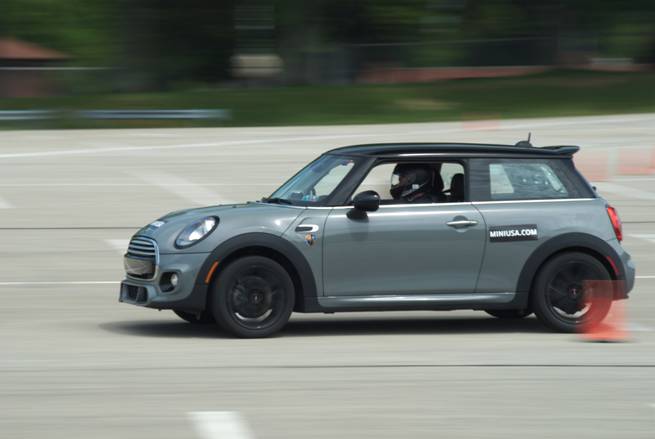 There was some question whether the club could run this event considering that a large group of the hard core membership had run off to a Pennsylvania Hill climb Association, event at Summit Point. I am proud to say that the rest of the membership accepted the challenge and did a great job of setting up the lot and trailer in record time.  Morgan came through with "willing volunteers" from the ranks of the HDSA attendees, who also helped a great deal, especially in timing.   Two of those volunteers were tasked to be "Wranglers".  Their job was to try to get the staged drivers into proper numerical order.  Later in the afternoon they told me that they were convinced that race drivers can't count.  I replied that was what happens when a driver puts on a helmet and climbs into his car for a run.  Normal cognitive functions drop off line as the red mist rises.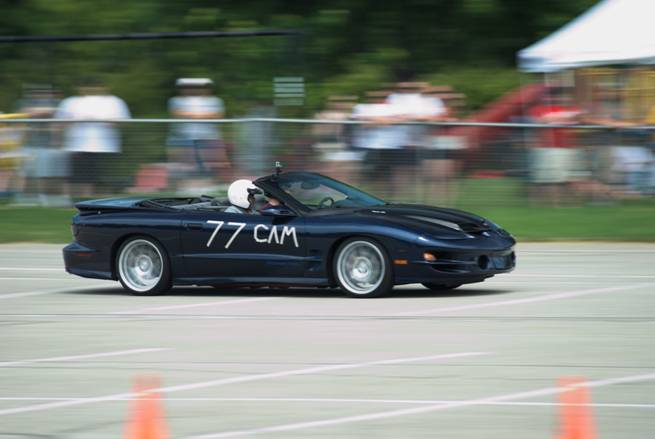 There were some very large classes at this event. H/S had 12 entries, CAM had 9, D/S, G/S and X/P each had 8 cars. SM had 11 entries, but the biggest class was STX with an astounding 16 entries. 
It was great to see Wanda Shelley and her hubby Roy Jr. make it to this event in their Corrado, along with their son Trevor in his GTI.  It has been a long time since we have seen them.  Wanda was tapped to announce a round, and she did a great job of it.  I hate to admit this, but I can remember Wanda running an event twenty years ago when she was eight months pregnant with Trevor.   YOI !
Moore Performance showed up with most of its customer base in tow.  The older Subaru Forester didn't look much like a race car, but made all the right noises when it launched.  That must have been some engine transplant.  The champion of noise had to go to Joe Bubenhiem driving a JDM, right hand drive Nissan Skyline R-32.  The noise that car made when launching was incredible.  It was like standing behind an F-16's taking off from an aircraft carrier. After the first run, even the little kids on the playground swings stuck their fingers in their ears when he came up to stage.  Quite impressive.
And speaking of the playground, the HDSA people were there en- mass before I arrived with the trailer. They soon converted the playground into a bazaar, complete with tents and numerous tables heaped with baskets of goodies to bid on.  I saw everything from baskets of booze to a set of automotive themed bar stools to a nifty battery powered air wrench available.  And of course their in house chef was hard at work on the grille cooking all kinds of good food including the yummy chicken and veggie skewers.  From the number of people surrounding those tents all day, the HDSA folks had to do pretty well at this event.
I could go on at great length describing class battles, but the results speak for themselves.  Look for them elsewhere on this site.  There were some great battles in almost every class. At the end of the day, Ethan Conner put down a blistering 31.039 run to take FTD honors, driving the incredible Spongebob.  The Club wrote a substantial check to the HDSA that made Morgan very happy, and I was on my way to the storage lot with the trailer by 5:00 P.M.    It was a good way to end the spring season and do some good at the same time.  
Thanks again to Dan Sabol for the pictures!