North Hills Sports Car Club
NHSCC #1 – 4/12/15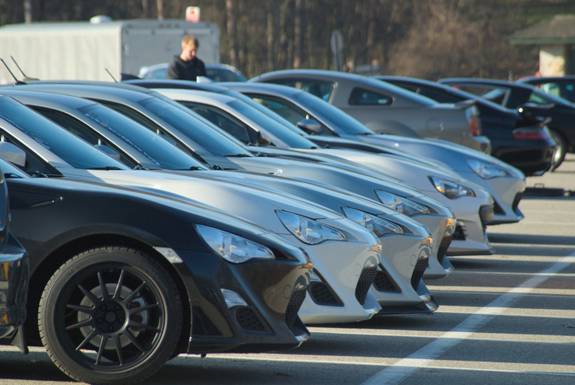 On April 12th the 2015 racing season kicked off with a bang as 131 drivers from around the area returned to the North Park Pool parking lot to shake off a VERY long winter. 
The generous turnout was supported from a wide range of makes and models.  Everything from lightweight & nimble FRS/BRZ twins who showed up in droves to the heavy hitting Classic American Muscle class competitors with their V8's pounding the asphalt. 
The sun shined all day as Dan Ennis and "Father" Tim Murphy set out a fairly straightforward course to shake the cobwebs off.
As with any first event some of the locals did not have their cars ready in time. 
While others were showing up in new rides for 2015.  Bill Staley's blazing fast SMF civic was not ready for its appearance so he opted to bring his daily driven S2000 instead.  Mike Longwell's 2.0L CRX did however make an appearance in SMF and hosted Matt Phillips as a co-driver.  Eric Coffman finally decided to bring his lovely sounding Porsche Cayman out to play. 
Other cars appeared hosting extensive upgrades like Mark Aubele's 2014 Mustang GT he built for tackling the hillclimbs of Eastern PA.  Tim Murphy rolled out his beautiful Triumph GT6.  Ethan Conner happily plopped himself into the Spongebob Miata for the day.  Tim Ward came down from New York to take a seat in Ron Williams own Subaru STI.  Kurt Emigh finally brought out his drag racing Eagle Talon for its first autox outing in almost 10 years!  And last but not least Tom Wuellette made his triumphant return to racing to do some shakedown runs in his new hillclimb prepped Volkswagen GTI.
Going briefly though some of the classes, in SSR the Rat Pack showed up with a battle between Chris Carlisle, Dan Ireland, Jay Gyger, and Michael Figliolia in their respective cars of Dan's Grand Sport Corvette and Jay's Porsche GT3. 
Carlisle would barely bring the GT3 out on top with a 30.064 to the 30.223 by Ireland.  Comically though in PAX finish it would be Bruce Wesley besting both cars with an impressive raw time of 31.113 cars running his own Grand Sport Corvette in A-Street. 
Todd McKee's new Mitsubishi Evo 10 would take the win in B-street with a time of 32.032 over the 33.365 of Jeff Perish in his Subaru STI.  Mike Ferchak's BRZ locked horns with Shawn Bauman's Miata in C-street.  Mike would take the win with a 32.532 to the 33.002 from Shawn.  Ray Colbert would lead a parade of WRX's to take the win in D-street with a 33.459 to the 34.012 from Tony Palmerine's own Subaru. 
E-street had a surprise twist when Jenny Weaver came out to show the boys how it was done in her MR2 Spyder.  Jenny's 33.336 would lead the fellow mid-ship MR2 of Glenn Hoffman by 0.217 in the 8 car class.  Dan Sabol was happy to lead his big blue Mustang GT home with a 32.279 in F-street for the win.  G-street became the battle of the turbo front wheel drive cars and Jack Heaton's Focus ST stood in first with a 32.370 to the 33.121 from the Mazdaspeed 3 of Reinier Goede. 
And finally in one of the largest street classes we have the knife fight that was H-street.  Fourteen cars showed up to play, but the Fiesta ST's made themselves at home near the top with David Shenider, Dan Dennehy, and Peter Hilton bringing the little Fords home in a 1-2-3 finish with less than seven tenths covering the top 3!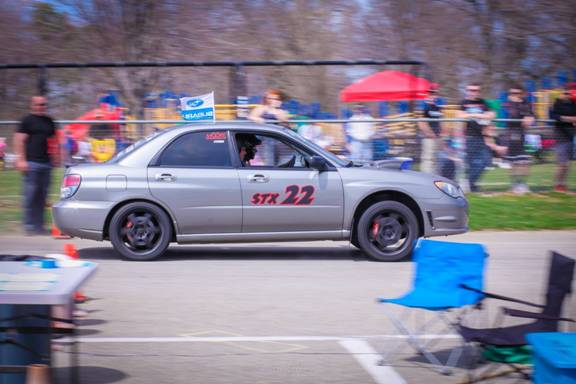 Some of the larger class groupings were found in the ranks of Street Touring.   While the cars were small in size STF became an all out brawl to reach the top as David McKenney use his nimble Mazda 2 to hold off a hard charge from George Katona's Fiat 500 and Peter Subosits in his Ford Focus.  David would eek out a win with a 34.507 followed by George with a 34.682 and Peter hot on his heels with a 34.687 in 3rd. 
STR was a battle of Miata's with Joe Costa's 34.972 besting the 36.452 of Mike Gonlin.  The old STC class long held in the grip of the 88-91 Civic hatchbacks was merged into STS for the 2015 season.  Carrying the torch for the Civic's was Chris Buntrock who would run a 32.365 for the win. Steve Blough however was determined to keep a 2-seater car near the top and would run a 32.554 to hold down 2nd.  And Matt Fallat was enjoying some new modifications for 2015 and would bring his Civic hatch into the 3rd place spot with a 32.936. 
STU would see Forrest Huebner lay down a screaming 30.946 in his E36 M3.  But by far the biggest field of the day was STX with a whooping 18 entries!  The range of cars was everything from AWD Subarus to turbo Volkswagens and a few BRZ/FRS twins to fill out the ranks. 
In the end there can be only one (like Highlander!).  That honor would go to Ralph Weaver with a 32.110 in his VW GTI.  Long time competitor Paul Lynd would make a great showing for the Subarus with 32.373 in his WRX.  Jesse Younker who has come a long way since he started racing in his WRX and would run a 32.687 to complete the top 3 spots.  Kevin Edward would wrestle his civic near the top with a 32.733 to claim 4th.  Chris Zavolta was back in his Nissan Sentra Spec-V to run a 33.236 in 5th.  And special mention to Jenny Weaver who ran Ralph's GTI the whole way up to 6th position in the large class!
Across the modified classes things were just as contested.  In ASP Tim Ward will never again be to allowed to drive Ron William's STI seeing as he beat Ron by three tenths of a second with a 30.321 and a coned time that was in the 29 range! 
In a combined FSP/ESP/BSP class Mark Aubele would join the 30-second club with a 30.682 from his 2014 Mustang GT to end up with the win. 
The CAM class has been growing steadily the past few years and had a strong start in 2015 with seven entries.  Mustangs would sweep the top 3 positions in class with a 33.403 by Chad Englert's 2013 stang taking the win.  Followed by Caleb Pardus with a 34.034 and Aaron Geer rounding out the top three. 
In EP it was the a battle between Honda loving hillclimers as Mike Ancus would hold off Mario Matos with a 31.634 in Mike's civic to Mario's 31.866 in his CRX. 
Street Mod Front wheel drive, or SMF…..or "Smurf" if your really young also had a good showing with 6 cars.  Jarrett Matson would take home the win with 32.344 putting his new race tires to good use.  However Jarrett was closely followed by Matt Phillips pushing Mike Longwell's CRX to its limit with a 32.417 followed closely by the car owner himself Mike Longwell in 3rd. 
In SSM Dave Stoner's C5 Corvette would run an impressive 30.248 to the 31.047 of Dan Ennis's supercharged Mazda Miata. 
In XP the familiar paring of Matt Parson in the V8 powered Spongebob Miata of Don Fazekas would again prove a recipe for winning and he would run a very fast 30.387 to take 1st.  Ethan Connor quickly came to terms with the powerful Miata and would pull a 30.864 to make it a 1-2 finish for Spongebob.  And Rob Carroll would bring his beautiful Superformance Cobra in with a 31.617 to round out the top 3. 
Last but not least there was the Street Mod class.  In 3rd was Josh Reinard's WRX wagon sporting a huge pair of front brakes and a 31.906 to back it up.  Making a great start to 2015 Joe Mayher brought his WRX way up in the standings to finish with 31.675 to claim 2nd overall in class. 
But the man of the hour was Dan Foley who would not only win Street Mod, but run a astonishingly fast 28.983 in is Moore Performance sponsored Mitsubishi Evolution 10.  Not only was this the fast raw time of the day, but top PAX as well by a good margin so a very impressive run by Dan!
We would like to thank Bill Staley and Dan Sabol for the pictures.  We'll see you next time!
C Carlisle-